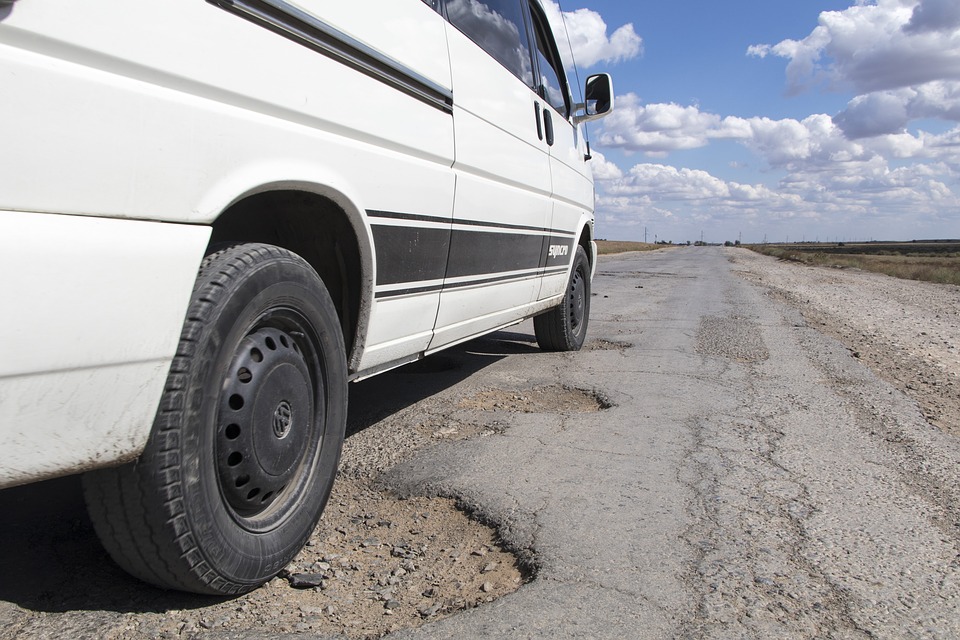 Driving this time of year can be tough with hazardous road conditions like snow, sleet and ice. However one occurrence on the road that can be extremely costly to your vehicle are potholes. The unexpected ditches on the road pop up out of nowhere after a big storm and surprise us drivers with a sudden uneven driving surface. Though spilling one's coffee or dropping your phone underneath the seat may seem like the biggest problem after driving through a pothole, the real damage is yet to arrive.
Potholes can cause the following damages to your vehicle:
Blown out tires
Dents to your rims
Uneven suspension
Damage to bumper
Damage to steering system
At first the exterior damage seems devastating, just wait until your wallet gets hit. Without proper collision coverage to your vehicle, out of pocket expenses can be astronomical! Think about it for a second. If you're driving your own personal vehicle without collision coverage and suffer damage from a pothole, right away you're limited on how you get to and from work. However it's even more significant if your commercial vehicle suffers pothole damage! Not only will you be forced to pay a large expense to restore the vehicle, but your operations may be ceased as a result, this can lead to unhappy customers or loss of business.
What can you do?
A common misconception auto policy holders may have is believing collision coverage is only available if you're involved in an accident. Collision coverage is available whether your vehicle was involved in a crash with another driver, rammed into a fixed structure or crash into a ditch or a POTHOLE. One of the main advantages of collision coverage is that you can file a claim and receive reimbursement regardless of who was at fault.  Another advantage to collision coverage is when your vehicle is getting serviced for repairs from the pothole, rental car coverage is included in most cases. Just think, not only is damage to your vehicle covered after driving through a pothole, a replacement vehicle could be provided too as an additional feature of the coverage.
How Twin Forks can help
Please call our office @ 631-224-1000 with any questions regarding collision or any type of coverage for your personal or commercial vehicle. Our friendly staff will be more than happy to assist you and address any questions or concerns you may have. Please leave a comment or question you may have about any information in our blog posts. This allows us to better connect with our readers and offer any assistance we can provide.